Lectures on Russian emigration continue in Belgrade
/ Главная / Russkiy Mir Foundation / News /

Lectures on Russian emigration continue in Belgrade
Lectures on Russian emigration continue in Belgrade

17.12.2019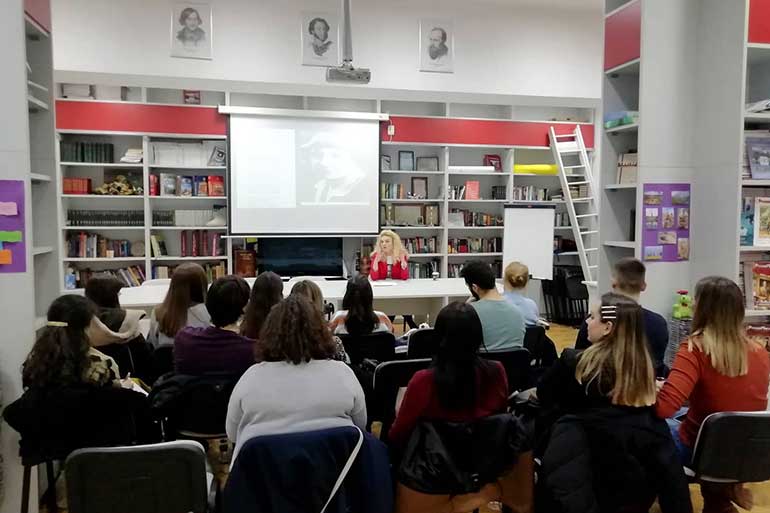 Visitors to the Russian Center in Belgrade got acquainted with the literary work of Russian emigrants living in Belgrade, Prague, Paris, and Berlin as part of a series of lectures on Russian emigration on December 12.
Teacher Maria Kuvekalovich showed an interesting presentation about the life and cultural centers of Russian emigrants, the buildings where they met and where their works originated. Vladimir Nabokov, Ivan Bunin, Marina Tsvetaeva, Alexander Kuprin and many other Russian writers were forced to live and work far from their homeland.
The teacher talked about the literary circles that existed in Belgrade in the 1920s and 1930s, namely: Gamayun Bird of Things, Meduza, Literary Environment and others.
On December 13, the Russian Center was visited by students of the Momcilo Zivojinovic Elementary School of Mladenovac, the winners of You Don't Understand Russia with Your Mind contest.
Several schools in Belgrade and other Serbian cities took part in the competition, and the winners received medals, books and diplomas.
The pupils of Momcilo Zivojinovic school made wonderful panels with texts, drawings and photographs on the theme of Russian culture, history, literature.
An evening of poetry was organized at the Russian Center the same day. The meeting turned into a serious conversation about the meaning of poetry, the creative process and the poet's attitude to his works, as well as about the reader's attitude to the text itself.
During December, as well as next year, a series of poetic meetings are planned in the Belgrade Russian Center, which will be an opportunity for new poets to introduce the public to their works, as well as talk about famous Russian and Serbian poets.
Boyana Szabo, Belgrade
News by subject